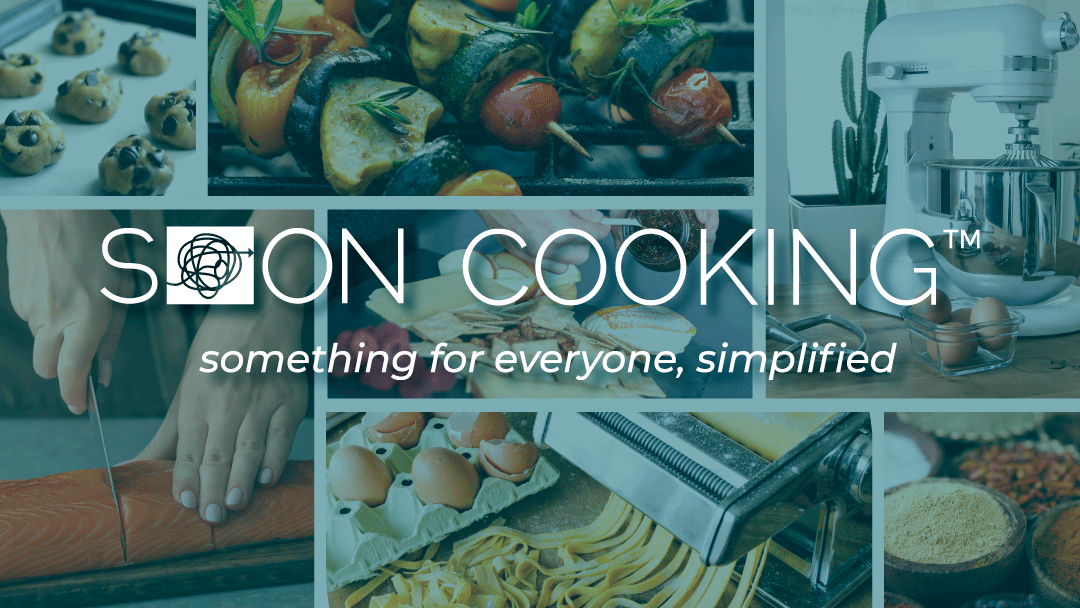 Welcome to SooN COOKING!
I am thrilled to have you here! I'm Elisha, the creator of SooN LIVING and SooN is an acronym I developed to better describe my superpower. It stands for SOMETHING out of NOTHING. 
I consider my superpower bringing process to chaos. This skill has led me to uncover some pretty helpful tools, methods and techniques for tackling life's obstacles. I share these discoveries across SooN LIVING. To learn about the SooN LIVING origin story — START HERE.
I'm hopeful SooN LIVING can be useful [or at a minimum, you are entertained]. Feedback welcome: elisha@soonliving.com.
Thank you for stopping by!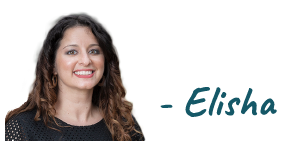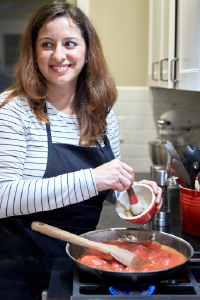 Two Quick Things to Know About SooN COOKING
#1: Why I Started SooN COOKING
I love to cook.  But that is not what motivated me to start SooN COOKING. At any given time, the "guests" at my table had a minimum of three different dietary requirements.  As a result, I was finding it increasingly difficult to cook SOMETHING that met the needs of EVERYONE at my table.
No longer were my family and friends united by a meal together.  The result was a lot of fear, uncertainty and doubt [FUD] for me when I was working to plan meals.  A situation that I call Meal Planning FUD™ and I felt strongly that I wasn't the only home cook in America experiencing it.
A little Googling led me to discover a Vox article by Jullia Belluz who I believe labeled it perfectly when she called this phenomenon "The United States of Divided Dinner Tables".  She examined the impact cooks hosting these, "hyper-individualized meals" was having and  prompted readers to share their stories on Facebook.
My favorite response came from Elie Challinta who shared a story that resonated with me:
One of my most memorable dinners was when I cooked for a group of guests who had the following restrictions:
• One person had celiac disease
• Another was allergic to garlic
• The third was a pescatarian
• The forth can't stand anything spicy
• And finally I do not enjoy most veggie-only dishes.
It turned out pretty well but I hadn't done that much research since getting my masters.
− Elie Challinta

Not only did Elie have meal planning induced anxiety just like me − in order for her to develop a strategy for serving her guests she needed to do as much research as was required to obtain an advanced degree.
I too had felt like that and that just seemed silly.  SooN COOKING is my attempt to create this solution.  My hope is that I have combined my love of cooking, passion for process and ability to invent SOMETHING edible from NOTHING in a framework that helps you tackle the Meal Planning FUD you might face in your home kitchen.
I can't wait to hear what you think in the comments section below!
Looking for Something?
Search SooN LIVING and let us know if you don't find what you are looking for!
#2: How SooN COOKING is Organized
All SooN COOKING recipes follow the same structure and format. First, I will outline the hardware, ingredients, general preparation, serving and pairing suggestions. Then, to assist with your own needs or to meet the dietary requirements of your guests — you can design your meal blueprint using any of the EIGHT meal preparation options:
SooN COOKING ORIGINAL™
The from scratch, no shortcuts version that I generally use when I want to relax through cooking.
SooN COOKING EXPRESS™
The NOTHING to SOMETHING edible in 60-minutes or less variation (a natural evolution since I'm a Mom, now).
SooN COOKING VEGETARIAN™
This is a modification so that the recipe can be served to Vegetarian guests. Not familiar with a Vegetarian diet? Learn more here.
SooN COOKING KOSHER™
This is a modification so that the recipe can be served to Kosher guests (like my Aunt Maxine). Not familiar with a Kosher diet? Learn more here.
SooN COOKING HALAL™
This is a modification so that the recipe can be served to Halal guests. Full disclosure: I have yet to have a Halal guest at my table. However, this is one of the fastest growing food channels in America. Research indicated that it would be a relatively low effort on my part to include this segment in SooN LIVING. I hope in doing so I've delighted someone.  Even if I only have one halal user, that would be a HUGE return on the investment in my mind! Please, please, PLEASE provide feedback if I am inaccurate with my Halal instructions.  Not familiar with a Halal diet? Learn more here.
SooN COOKING CELIAC™
This is a modification so that the recipe can be served to guests who are Celiac (like my brother Randy). Not familiar with a Celiac disease? Learn more here.
SooN COOKING for ONE™
This is a modification to create two servings.  A great fit if you would like to utilize SooN COOKING's Serve and Reserve™ method.  It would also be a perfect option for two people who do not like seconds or leftovers.
SooN COOKING for KIDS™
Do you have a picky toddler on your hands? I generally served mine whatever the adults were having but kept this kind of a modification in my back pocket.  I would only serve them SooN for KIDS after they tried the main version.  Eventually, they grew out of it!
Now. Enough background!  Start SooN COOKING!
Feedback? Input? Questions?
We cannot wait to hear from you!