SooN COOKING Kosher
Make sure to use Kosher certified products when serving these croutons to someone who keeps Kosher. The SooN COOKING Original recipe is Dairy — to make this recipe Parve, omit the cheese!
Not familiar with a Kosher diet? Learn more using the SooN LIVING Dietary Requirements Decoder.
SooN COOKING Halal
Make sure to use Halal certified products when serving when serving these croutons to someone who keeps Halal. From there, the SooN COOKING Original or recipe will work.
Not familiar with a Halal diet? Learn more using the SooN LIVING Dietary Requirements Decoder.
SooN COOKING for One
These croutons store well so simply follow the directions in the SooN COOKING Original recipe and plan to add anything you don't use immediately your reserves.
SooN COOKING for Kids
Funny story — my kids love croutons so much that we actually have to hide where we store them. If it were up to them — they would eat croutons and ice cream for every meal.
If you have some little helpers [like I always do], this is the perfect recipe for them to "help" make!  Try omitting the knife altogether and let your little chefs rip the bread into bite size pieces instead. I personally find this to be a great interactive distraction that allows me enough time to get other things done like unloading the dishwasher or folding the laundry!
SooN COOKING as a Photo Essay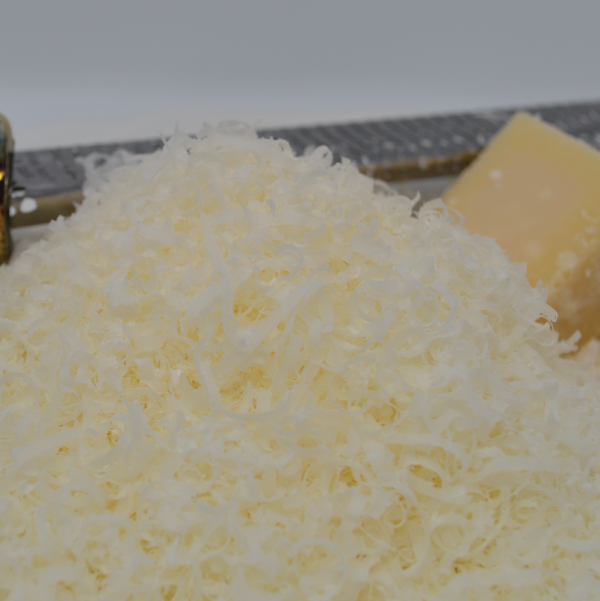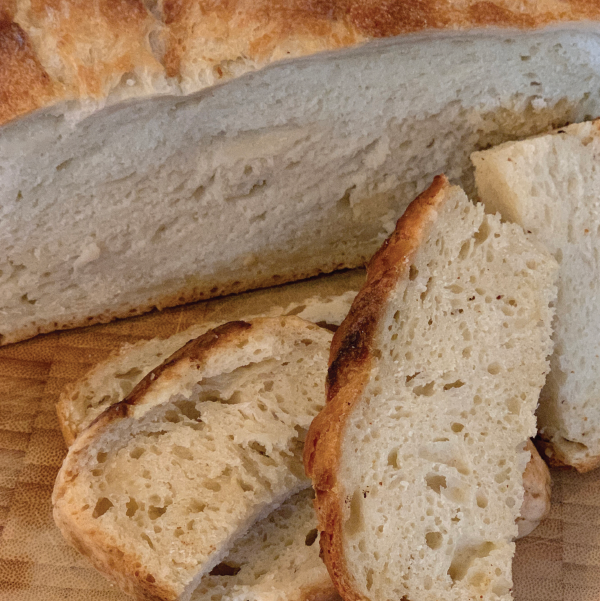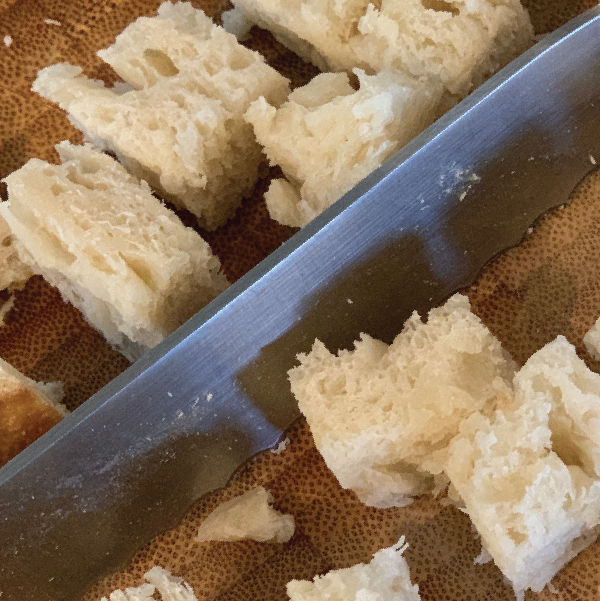 #2: mix ingredients together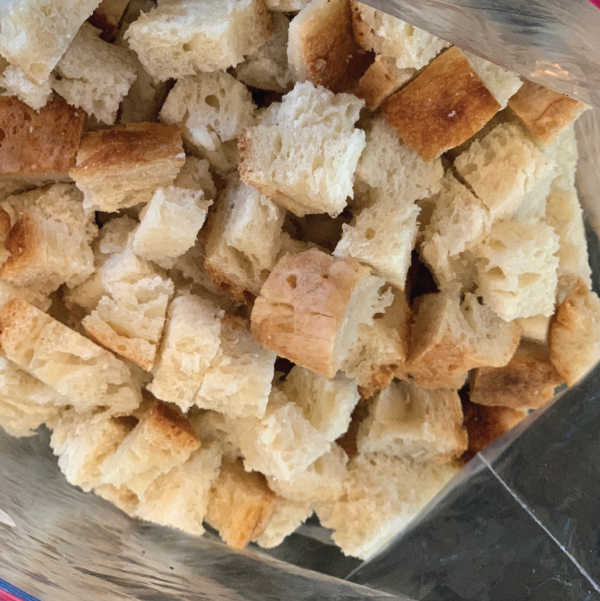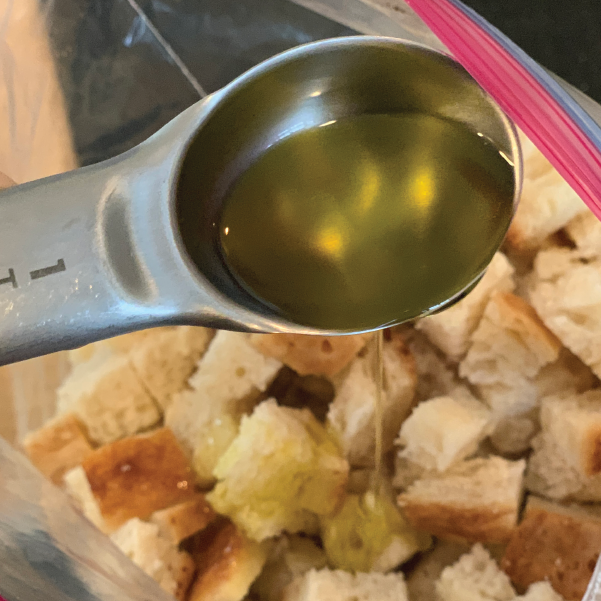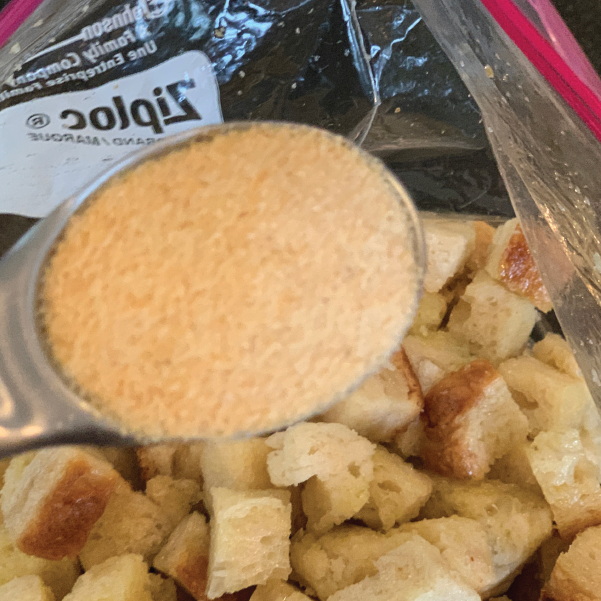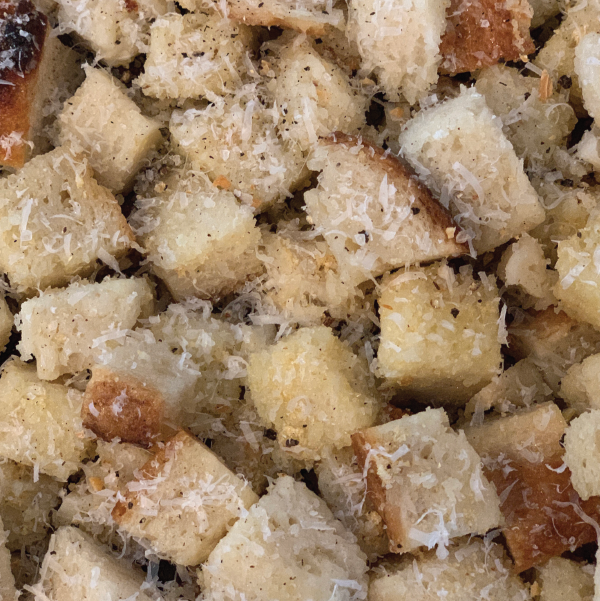 #3: cook | #4: serve or reserve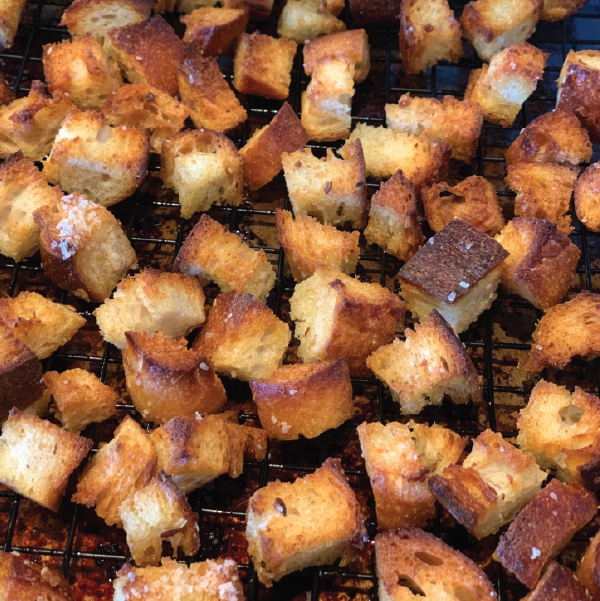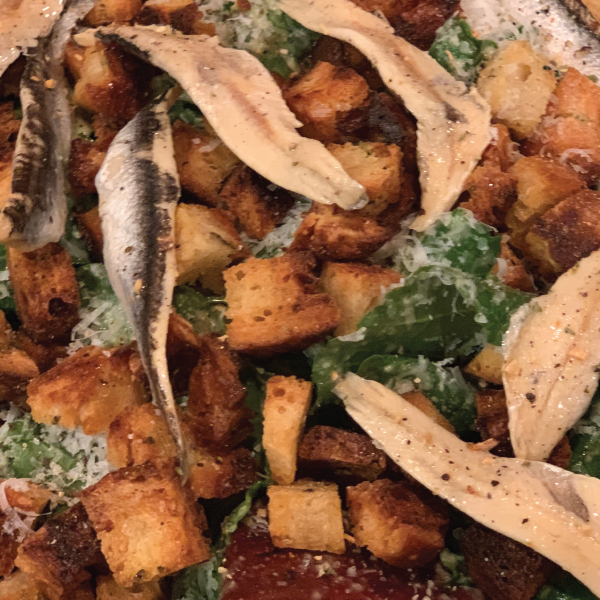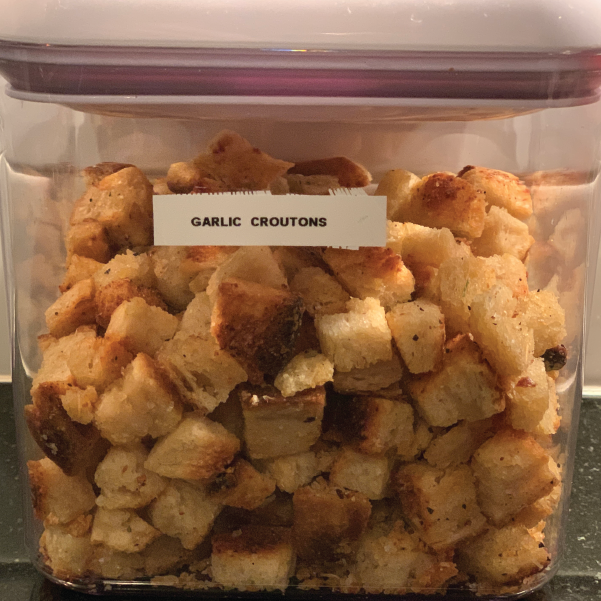 This post contains affiliate links which doesn't impact YOUR customer experience.  What it means is that when you buy something AFTER clicking on the links THEN the merchant may pay me a commission for the traffic and revenue generated from that sale. To forgo the affiliate process, you would need to separately search for the hyperlinked items listed below on the internet. Curious to learn more about this process? https://soonliving.com/start-here/legal/ has the full details.

Ingredients
~4-6 cups of cubed old bread
2 TBS olive oil
1 TBS garlic powder
1/4 cup parmesan cheese
20 turns salt (~1/2 tsp)
10 turns pepper (~1/4 tsp)
New to SooN Cooking?
No problem! Some quick background on the concept: I love to cook and realized that I often had to adjust my meal plan to accomodate for for my friends and family with dietary requirements when they joined me for a meal.  More often than not, I didn't know how to modify my recipe to address their dietary needs which launched me into some deep research and left me with a lot of fear, uncertainty and doubt that I was preparing the recipe the right way for my guest.  A concept that I now call Meal Planning FUD [fear, uncertainty and doubt]. To combat Meal Planning FUD each of my recipes has eight variations which covers everything from vegetarian to Kosher to gluten-free so that you can cut the Meal Planning FUD out of your life and feel comfortable serving the recipe to a variety of guests. Check out the SooN Cooking About page for the complete details.
Choose your SooN COOKING™ Adventure
SooN COOKING Original
#1: prep ingredients
Preheat oven to 400°
Microplane the cheese
Cube the bread
#2: mix ingredients together
Place the bread in either the bowl or Ziploc
Evenly distribute olive oil and mix with either your hands or shake in the Ziploc to coat bread
Add the garlic powder, cheese, salt and pepper and mix again
Transfer to the sheet pan
#3: cook
Cook for 15 minutes
Shake pan or turn bread with the spatula to expose more sides to the heat
Cook for 10 minutes
Finish by broiling on low for 30 – 60 seconds
#4: decision time: Serve or Reserve?
Serve immediately as a garnish for soup or with salad of choice
Store remaining croutons in an airtight container
SooN COOKING Express
The SooN COOKING Original recipe is as fast as I can make it! This recipe will yield enough croutons for 4-6 family size salads which makes it perfect for the Serve or Reserve method.
Dear SooN Cooks of the Internet,
I have a secret to share: homemade croutons. The secret is that it's really just a simple way to put old bread to good use. It is also part of the "no waste" campaign that I am trying to champion in my house.
The best part?
Homemade croutons are both delicious and a very simple way to impress your guests while also utilizing old and otherwise inedible bread. [Plus I get a kick out of my MAGA pun, MOBGA.]
To Making Old Bread Great Again!
Happy SooN COOKING,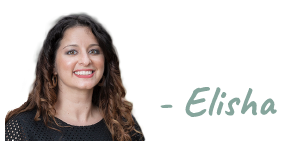 Looking for Something?
Search SooN LIVING and let us know if you don't find what you are looking for!
Become An Official SooN LIVING Fan*
Learn how to tame YOUR chaos with exclusive content, productivity hacks and the occasional funny story.
*A low-risk time commitment; unsubscribe anytime.
Feedback? Input? Questions?
We cannot wait to hear from you!