SooN COOKING Original
Defrost the Parmesan Stock (if using and if frozen).
Microplane the parmesan and set aside.
Combine the cornmeal, garlic powder, salt, pepper and liquid in the stock pot.
Using high heat, bring mixture to a boil while stirring regularly with the whisk.  I say "regularly" because you don't need to stir continuously but you do need to stir it often to avoid lumps.  For what it's worth, I typically use this time  prep and cook my main dish so I stir it when I need a break in between tasks. Whatever you decide "regularly" means to you will be fine!
Reduce to low heat and simmer while stirring regularly with the whisk.  (Now here's my secret if you have someone in the kitchen who wants to "help".  This is often a child for me but this little trick will work for anyone who is really interested in an assignment and you sort of just need them occupied while you cook. You can have them "stir continuously with the whisk".  As I said earlier, it is not necessary to do this but it doesn't *hurt* the polenta which I why it's my favorite task to assign those helpers.)
Continue to stir regularly/continuously as the polenta thickens.
After ~20-25 minutes, add the parmesan and distribute evenly.
Stir and taste.  Adjust flavor to your liking by adding more garlic powder, salt, parmesan and pepper.
This is where you would need to decide if it is necessary to add the additional water.  Does it taste grainy or course?  Does the texture too closely resemble the dry cornmeal you started with? If "yes" then you need more water. Add it and then cook for another 5-7 minutes. If not, then your Polenta is done!
SooN COOKING Express
One of my pantry staples is Trader Joe's pre-cooked Polenta.  If you are short on time this is a good substitute.  You can serve it as is. For additional flavor, heat on the stovetop on low with 1/2 cup of water or milk.  Mix liquid in evenly and add grated parmesan to taste.

SooN COOKING Kosher
The SooN COOKING Original and SooN COOKING Express are both Kosher dairy as is. Polenta is a go-to paring for a lot of my meat dishes.  If you are planning to serve meat as your main and your guest keeps Kosher then substitute a broth (chicken or beef) for the milk and cream.  Alternatively, you could also use only water. The reason I use the other liquids is to add to the Polenta flavor. Many people prepare Polenta with only water.
Not familiar with a Kosher diet? Learn more using the SooN LIVING Dietary Requirements Decoder.
Looking for Something?
Search SooN LIVING and let us know if you don't find what you are looking for!
SooN COOKING Celiac
As the title suggests − Polenta is my favorite gluten-free dish.  It is simple to prepare and I think this recipe is delicious, so win-win for the guest with Celiac disease or who follows a gluten-free diet.
Not familiar with a Celiac diet? Learn more using the SooN LIVING Dietary Requirements Decoder.
SooN COOKING for One
To make a single serving of polenta – first remember that the water to dry polenta ratio is 6:1.  From there expect the cooked polenta to double after cooking. So a 1/4 cup of dried polenta would become 1/2 cup of cooked polenta after adding 1-1/2 cups of liquid to cook it.
I really like leftover polenta because it is versitile so instead of making a single portion I might reccomend sticking with the SooN COOKING Original or SooN COOKING Express versions and then using the leftover polenta as a substitute for pasta in a variety of other dishes.
SooN COOKING for Kids
My kids don't like Polenta but that doesn't stop me from serving it to them anyways.  I always dish up a taste and I'm confident that my persistence will pay out sometime.  If your kid is also not into polenta, then I suggest substituting it for a few tater tots. Tater tots pair well with breakfast and dinner items so it is a versatile substitution for Polenta.
SooN COOKING as a Photo Essay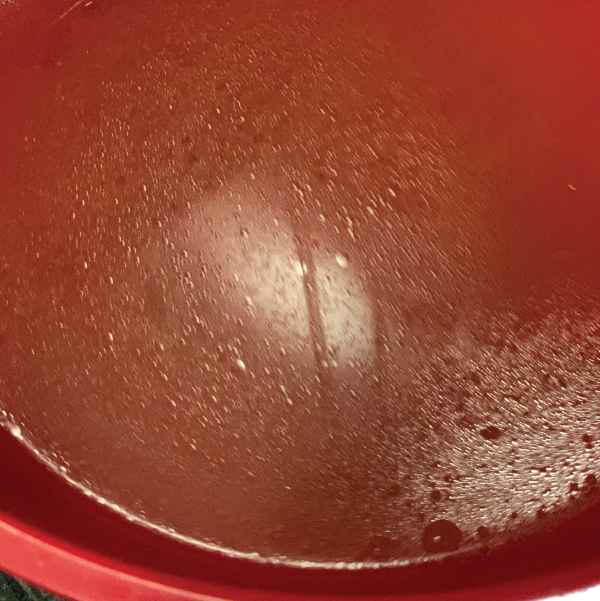 defrost the parmesan stock (if using)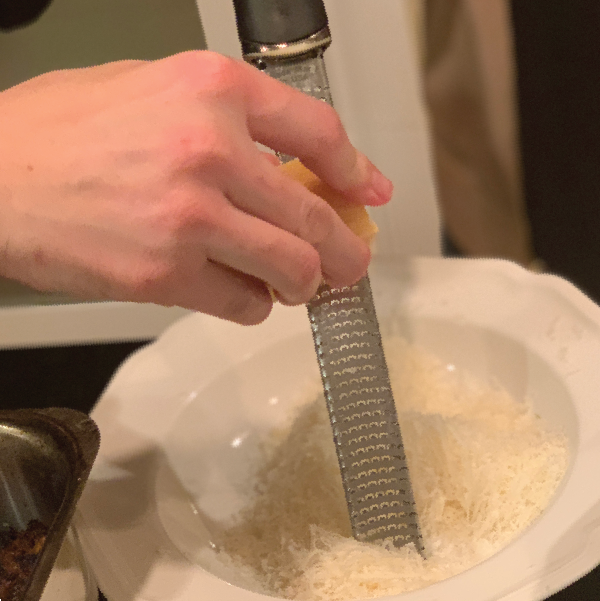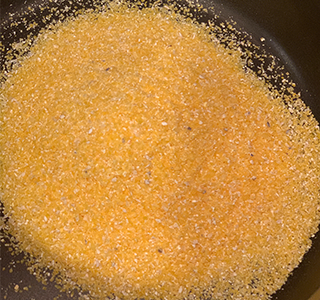 start with 1-cup cornmeal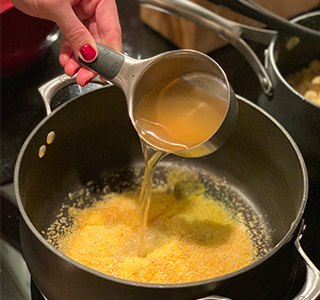 add parmesan stock (or water)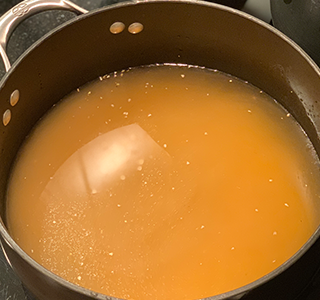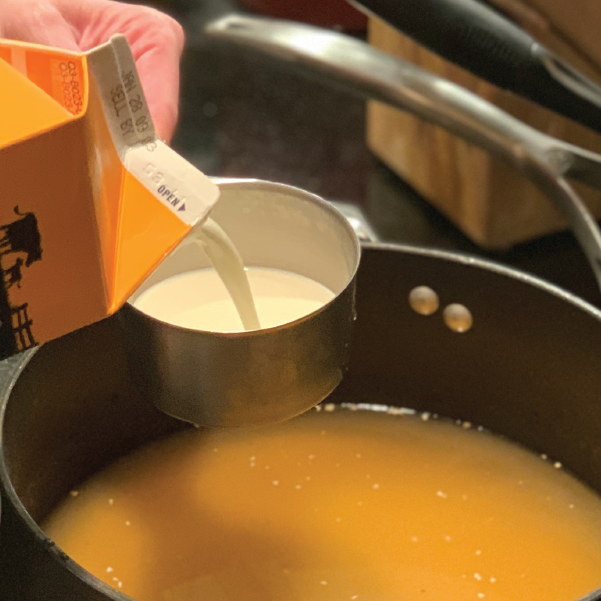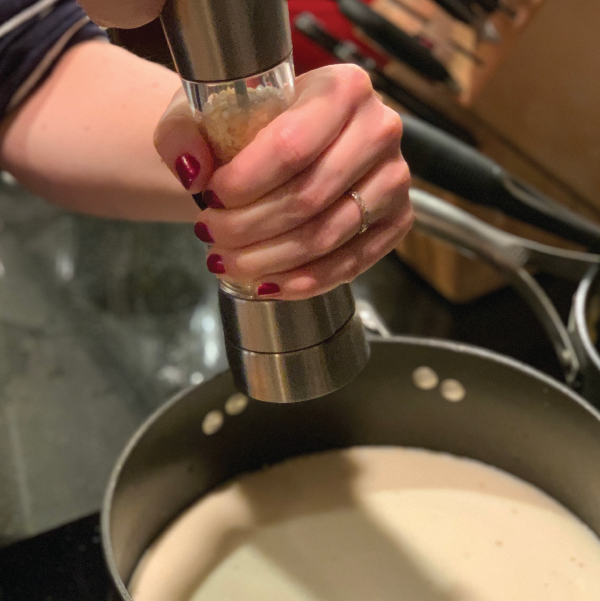 add remaining dry ingredients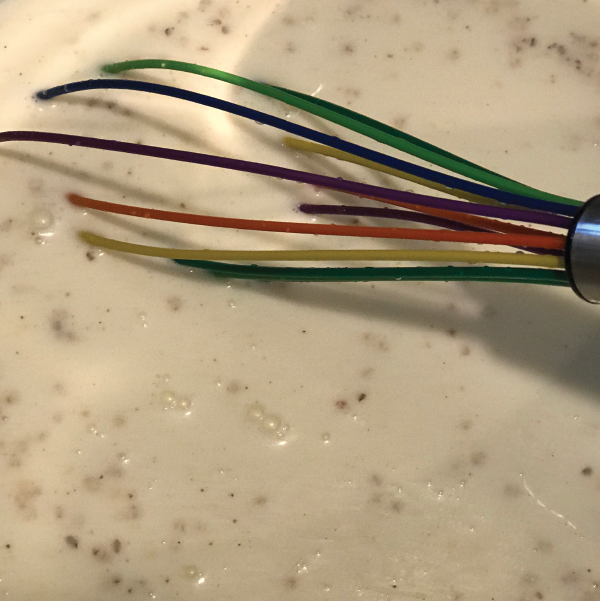 bring to boil; stir regularly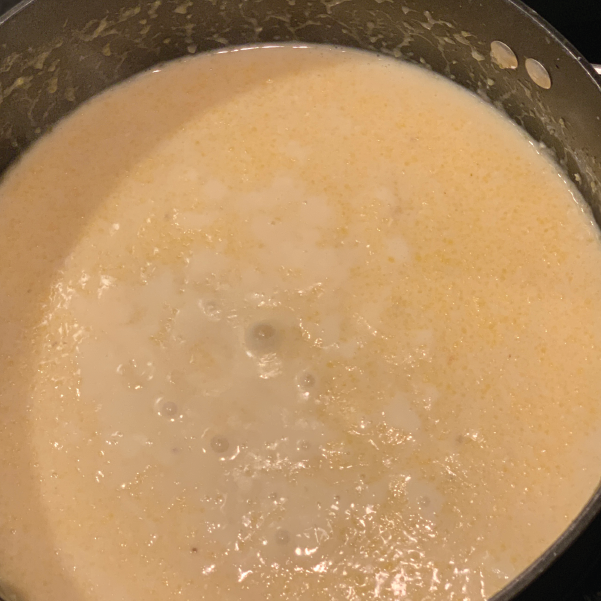 simmer on low to thicken ~20-25 minutes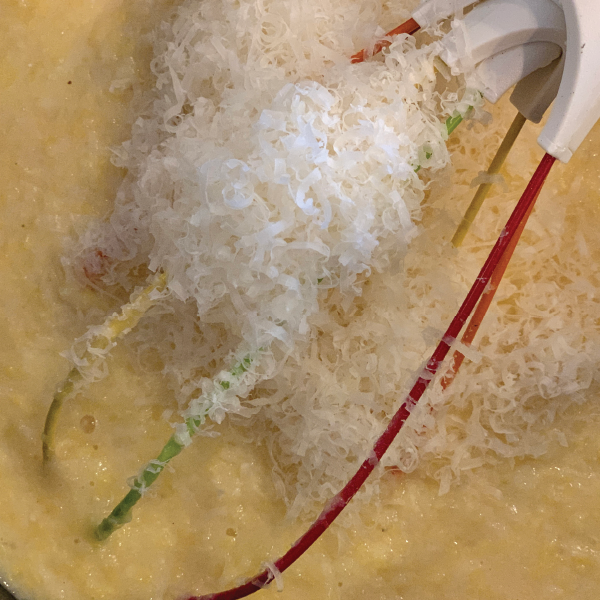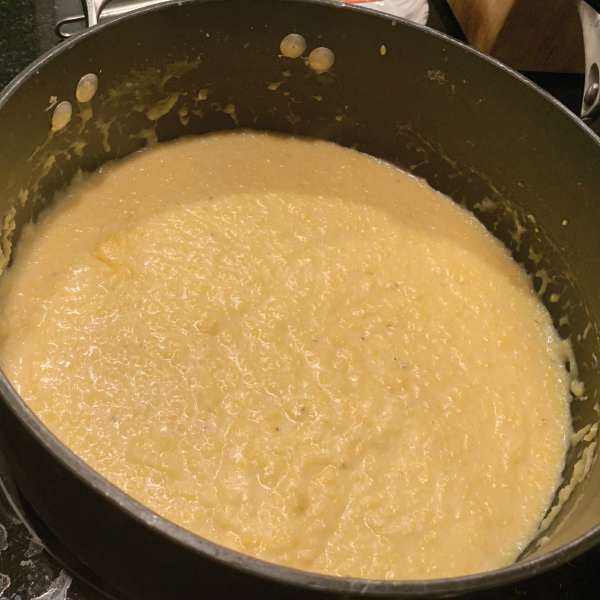 finish based on your preference
Become An Official SooN LIVING Fan*
Learn how to tame YOUR chaos with exclusive content, productivity hacks and the occasional funny story.
*A low-risk time commitment; unsubscribe anytime.
Feedback? Input? Questions?
We cannot wait to hear from you!