Dear SooN Cooks of the Internet,
Have you ever had LaCroix?  It's that delightful non-alcoholic drink that transformed the beverage industry. It's genius and it's everywhere!  Essentially, the makers of LaCroix took plain water, added some sparkle and natural flavors [like lime], put it in an aluminum can and finished it off by dressing it up with a fancy name — LaCriox.
It wasn't innovative at all.  There were plenty of other drinks like it that already existed in the marketplace such as Talking Rain, San Pelligrino and Perrier.  But I think there was something about the name LaCroix…something about the way that two people can never seem to agree on how to pronounce it [is it "cwoa" or "croy"???] that drove it to wide popularity.
I sort of feel the same way about Mirapoix as I do about LaCroix.  If you were to evaluate the recipe based on the ingredients alone — it's actually just chopped vegetables. It's the name that elevates it to literally a je ne sais quoi level. Mirapoix…it just sounds fancy.
Now. If you have never heard of Mirapoix, [or have but don't really know what it is], I'll break it down for you: Mirapoix is a mixture of chopped onion, celery and carrot. It's that simple.
I primarily use it to infuse additional flavor in soups, stews and sauces. It is one of the staple items that I always have on hand in my freezer.  If you have never used it — consider giving it a try.
Happy SooN COOKING!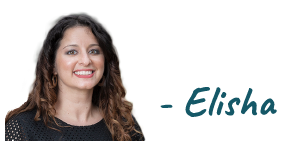 This post contains affiliate links which doesn't impact YOUR customer experience.  What it means is that when you buy something AFTER clicking on the links THEN the merchant may pay me a commission for the traffic and revenue generated from that sale. To forgo the affiliate process, you would need to separately search for the hyperlinked items listed below on the internet. Curious to learn more about this process? https://soonliving.com/start-here/legal/ has the full details.

Ingredients
1 white onion
1 celery bunch
1 carrot bunch
Other Critical Information
This SooN COOKING Kitchen Essentials Technique™ is so versatile that the SooN ORIGINAL recipe will apply to all other SooN COOKING variations and should take 30 minutes or less to prepare. However, if you are really short on time — check out the SooN EXPRESS details for significant time savings.
New to SooN Cooking?
No problem! Some quick background on the concept: I love to cook and realized that I often had to adjust my meal plan to accomodate for for my friends and family with dietary requirements when they joined me for a meal.  More often than not, I didn't know how to modify my recipe to address their dietary needs which launched me into some deep research and left me with a lot of fear, uncertainty and doubt that I was preparing the recipe the right way for my guest.  A concept that I now call Meal Planning FUD (fear, uncertainty and doubt). To combat Meal Planning FUD each of my recipes has eight variations which covers everything from vegetarian to Kosher to gluten-free so that you can cut the Meal Planning FUD out of your life and feel comfortable serving the recipe to a variety of guests.
Check out the SooN Cooking About page for the complete details.
Choose your SooN ADVENTURE™
SooN COOKING Original
#1: Prep your ingredients
Wash the carrots and celery.  Remove the skin layer from the onion.
#2: Cut
If you are using the Vidalia Onion Chopper then use the knife to prep the vegetables so that they can fit in the chopper and chop. (This is the perfect job for little helpers!)
If you are using only the knife, chop all the vegetables.
In either case, do each vegetable one at a time and keep the chopped ingredients in a separate bowl.  This is to help make the proportions equal in #3.
#3: store, seal, label and freeze for later use
Once the chopping is complete, you can use immediately in equal parts.
If you don't need it right away, follow this SERVE or RESERVE storage process:
Part One | Ziploc: using the measuring cup, divide each vegetable up evenly across as many Ziploc bags as it takes to use all the chopped ingredients.
Part Two | Label and Freeze: Use the Sharpie to label each bag with Mirapoix and the date.  Lay flat in your freezer until frozen, then you will have more flexibility to move around the frozen Mirapoix and fit into the space in your freezer [like Tetris] as you need. Keep frozen until you have a recipe that calls for Mirapoix.  I typically put the frozen Mirapoix straight into whatever I am making.
SooN COOKING Express
For less than $3 a portion, you can buy already prepared Miraxpoix at Trader Joe's.  I often just do this and then freeze each portion straight in the container.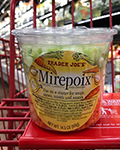 Looking for Something?
Search SooN LIVING and let us know if you don't find what you are looking for!
SooN COOKING as a Photo Essay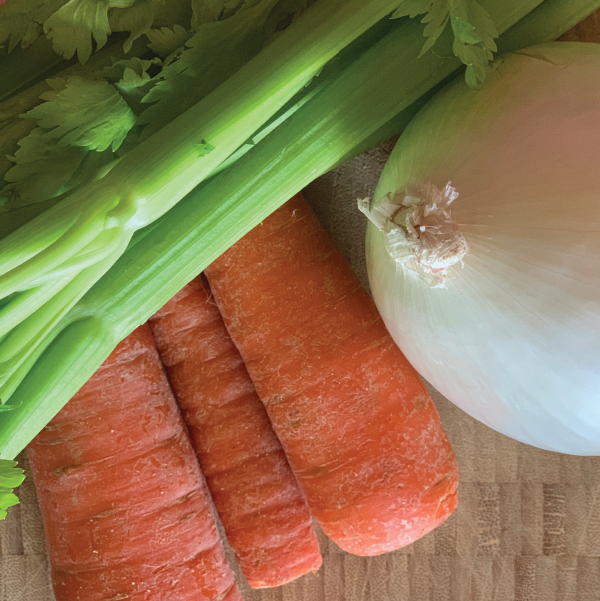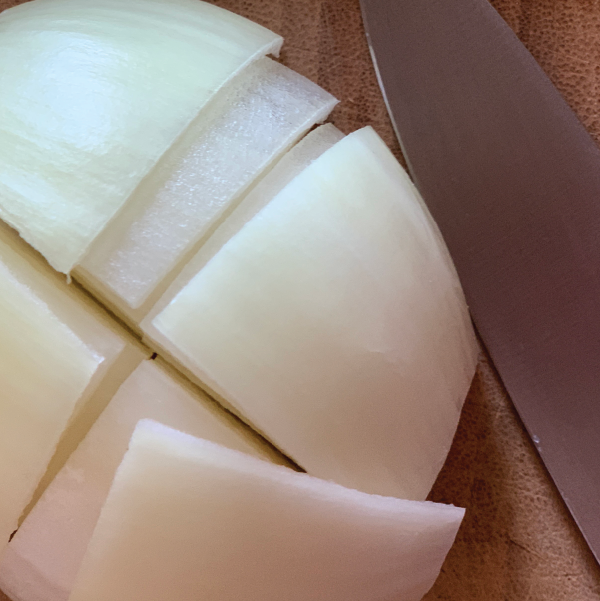 Prep ingredients for chopper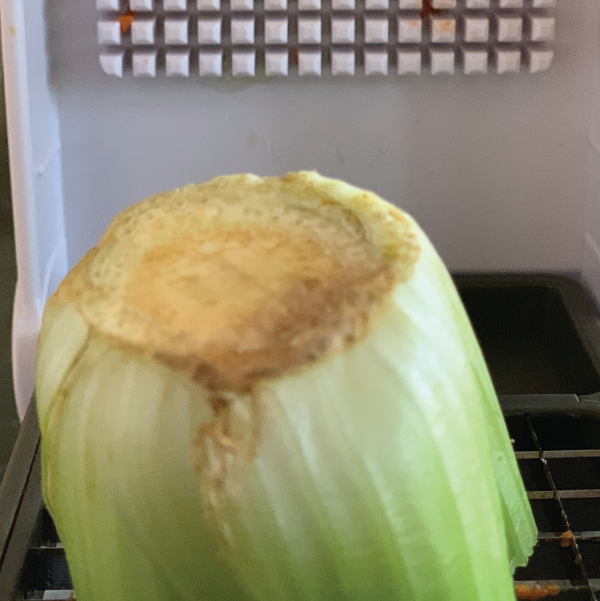 Feel free to use everything!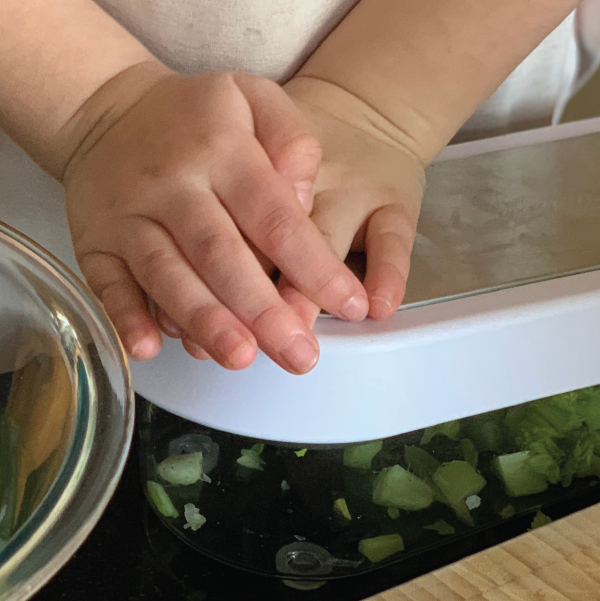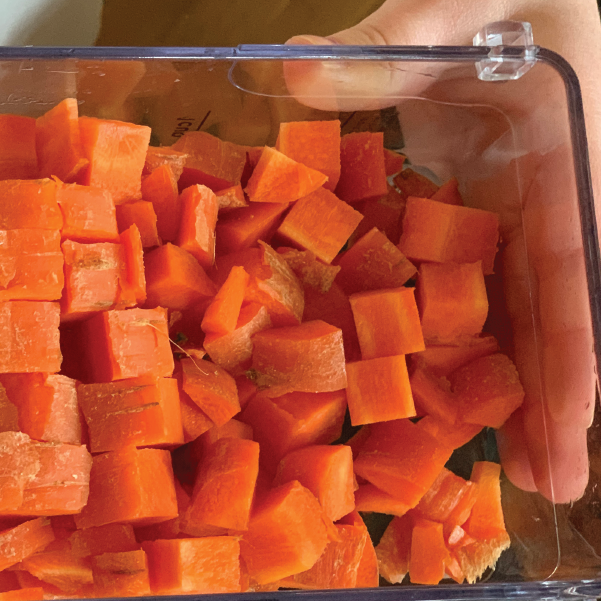 A perfect job for little helpers.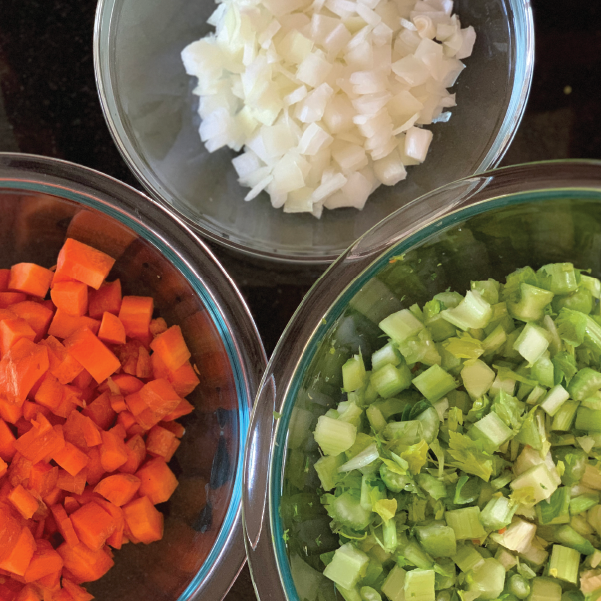 Keep ingredients separate.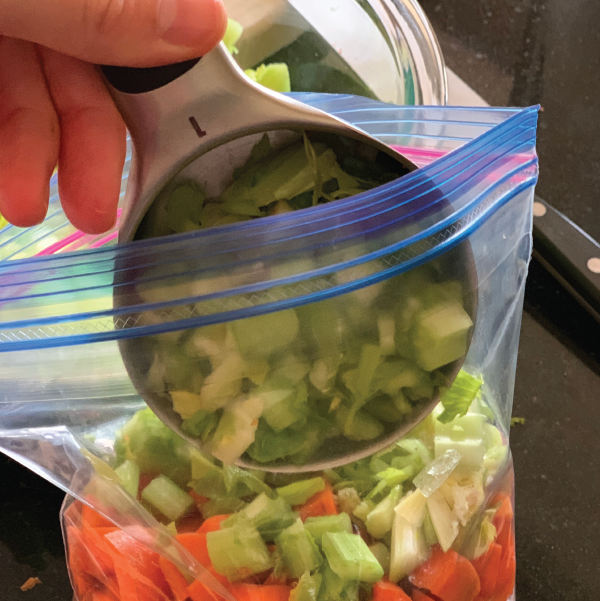 Distribute ingredients evenly.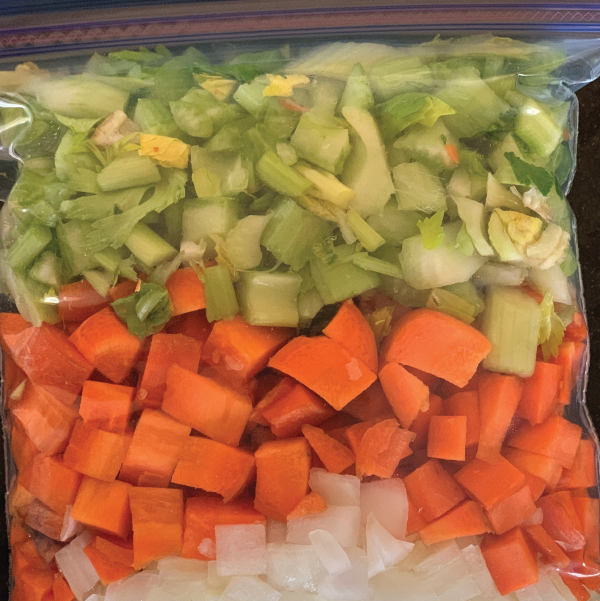 Store and freeze for future use.
Become An Official SooN LIVING Fan*
Learn how to tame YOUR chaos with exclusive content, productivity hacks and the occasional funny story.
*A low-risk time commitment; unsubscribe anytime.
Feedback? Input? Questions?
We cannot wait to hear from you!