Ingredients
1-pound fresh salmon (usually whatever is on sale)
1/2 lemon sliced for garnish
2 TBS butter
1/2 cup white wine (optional for deglazing the pan/a finishing sauce)
1 TBS Olive oil
Other Critical Information
Salmon is versatile and pairs well with most vegetables and starches. Honestly, most of the time I work backwards from what else is in the fridge that is coming to the end of its shelf life and I figure out a way to pair it well.  If you are not an experienced salmon searer then I recommend you keep it simple by pairing the salmon with a Kale Caesar salad or Mashed Potatoes and Sautéed Leafy Greens. Once you've gained your salmon cooking confidence then put yourself out of your comfort zone again by experimenting with a finishing sauce.  Lemon Dill, Pesto Cream, Artichoke-Caper and Garlic-Butter are usually my go-tos because I typically have all the ingredients on-hand anyways.
What's your favorite salmon recipe? Share your creations in the comments section!
New to SooN Cooking?
No problem! Some quick background on the concept: I love to cook and realized that I often had to adjust my meal plan to accomodate for for my friends and family with dietary requirements when they joined me for a meal.  More often than not, I didn't know how to modify my recipe to address their dietary needs which launched me into some deep research and left me with a lot of fear, uncertainty and doubt that I was preparing the recipe the right way for my guest.  A concept that I now call Meal Planning FUD [fear, uncertainty and doubt]. To combat Meal Planning FUD each of my recipes has eight variations which covers everything from vegetarian to Kosher to gluten-free so that you can cut the Meal Planning FUD out of your life and feel comfortable serving the recipe to a variety of guests. Check out the SooN Cooking About page for the complete details.
Choose your SooN ADVENTURE™
SooN COOKING Original
Prep the salmon filet by cutting it into portions.  I usually slice it the width of three fingers (using my hand as the ruler).
Place pan on high heat. You want the metal to get super hot so, let it heat for 1-2 minutes without anything else in the pan.  I usually do this while I season the fish.
Coat the salmon (front and back) with olive oil then season it with salt and pepper.
Add 1 TBS butter to the hot pan.
Once the butter has melted and the pan is evenly coated, place the fish in the pan skin down.
Let the fish cook for 8-10 minutes. Place very little slices of butter on top to melt as it cooks and give it a nice brown color when you flip it.
Do keep your eye on the fish while it cooks but I generally use this time to prep/prepare my side dishes.
It will be time to turn the fish when the edges on top have turned from the uncooked translucent look to an opaque appearance.
Flip the fish and let it cook an additional 1-2 minutes.
For added aesthetics I often turn the fish on its side and cook for an additional 30 seconds (per side).
Salmon needs to cook until the internal temperature has reached 145 degrees Fahrenheit.  I find that by following these steps it cooks perfectly.  If you are unsure, you can use a thermometer to check.
After you have followed all of these steps, remove the salmon from the pan and let it rest for 2-3 minutes before serving.  It will actually continue cooking a little more as it rests.  I typically use this time to prep my plate (if making individual servings) or finish plating my side dishes.
Garnish with a lemon slice.
Note: If you are making a finishing sauce, use the white wine to deglaze the pan.  Then follow the steps for your selected sauce or make one of your own! If you are not making a sauce, add 1/2 cup of water to the pan and remove from heat.  This will make it easier to clean the pan later.
SooN COOKING EXPRESS
The SooN COOKING Original recipe is as fast as I can make it!
SooN COOKING Vegetarian
Find out if your vegetarian is actually a pescatarian.  If so, this is the perfect entrée for them!  If not, Portobello mushroom is a great alternative for your guest.
Not familiar with a Vegetarian diet? Learn more using the SooN LIVING Dietary Requirements Decoder.
SooN COOKING Kosher
Fish is one of my favorite entrees to serve to my Kosher guests because kosher fish is readily available and requires no additional "slaughtering" methods like with livestock!  The main rule to follow with fish is that it must have fins, scales and gills (which salmon does). The SooN COOKING ORIGINAL is Kosher as is.
Not familiar with a Kosher diet? Learn more using the SooN LIVING Dietary Requirements Decoder.
SooN COOKING Halal
Research tells me that "fish with scales" is also a guiding principle for Halal diets. Salmon definitely qualifies and the SooN COOKING Original is Halal as is!
Not familiar with a Halal diet? Learn more using the SooN LIVING Dietary Requirements Decoder.
SooN COOKING Celiac
The SooN COOKING Original recipe is has no wheat products and would be perfect for someone who has celiac or is gluten-free. It will be important to ensure that your sides are Celiac.  Remember to skip the croutons in your Caesar or serve quinoa instead of pasta if those selections are on your meal roadmap.
Not familiar with a Celiac diet? Learn more using the SooN LIVING Dietary Requirements Decoder.
SooN COOKING for One
I reccommend 1/4-1/3 of a pound of salmon per person per serving.  Adjust your salmon portion to match and then follow the directions in the SooN COOKING Original recipe.
SooN COOKING for Kids
My kids love salmon.  Seriously. My daughter will put down an entire adult serving of salmon sashimi PLUS the Ikura (salmon roe) garnish in one sitting.  I've actually set myself up for a horribly expensive habit in the future, but I choose to focus on all those Omega-3 benefits.
Now. I think the reason salmon ranks so high on my kids' list of likes is because plain cooked salmon was the first protein we served them.  Choking hazards were my deepest fear when we were transitioning the kids to solid food.  Salmon was a winner because we were eating it all the time anyways AND cooked salmon is super easy to cut into toddler-sized pieces.  You can literally use your fingers.
So. My advice is to start serving your kids plain salmon every time you eat it. Then pair it with a banana or sliced strawberry.  Eventually, you can move to serving them whatever you are eating yourself.  Though, in full transparency my kids still won't eat anything green (unless its pesto) and they hate mashed potatoes for some reason. I still give them a small spoonful of each and encourage them to try it before rounding their plate out with fruit, cheese or leftover pasta. I'm confident my persistence will pay off eventually!
SooN COOKING as a Photo Essay
Portion the fish, I use a guide of a width of three fingers.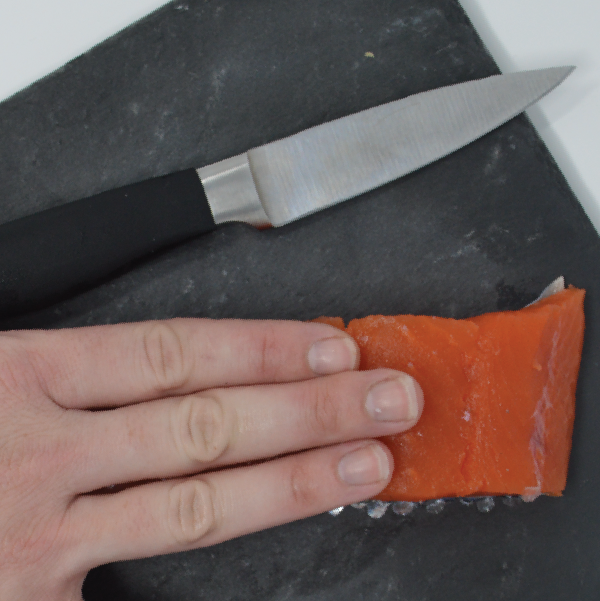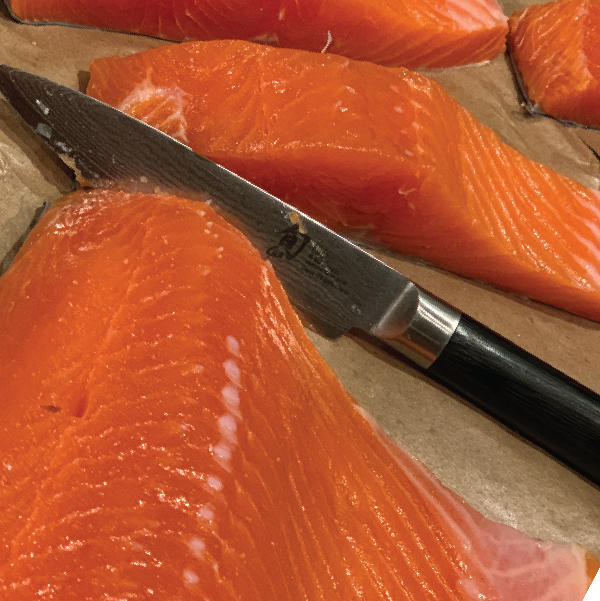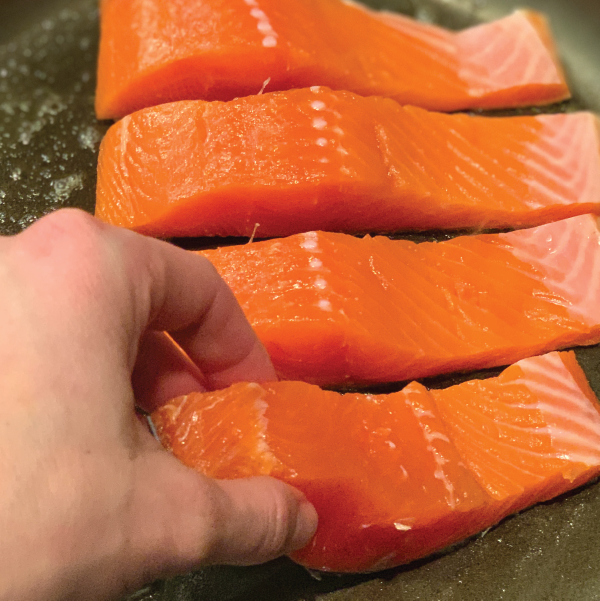 Pan-fry, skin down, until the edges of the salmon turn opaque. Skin should be crispy.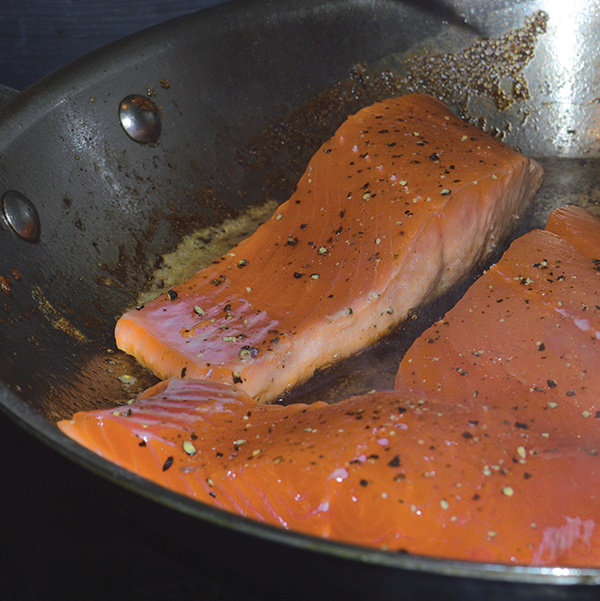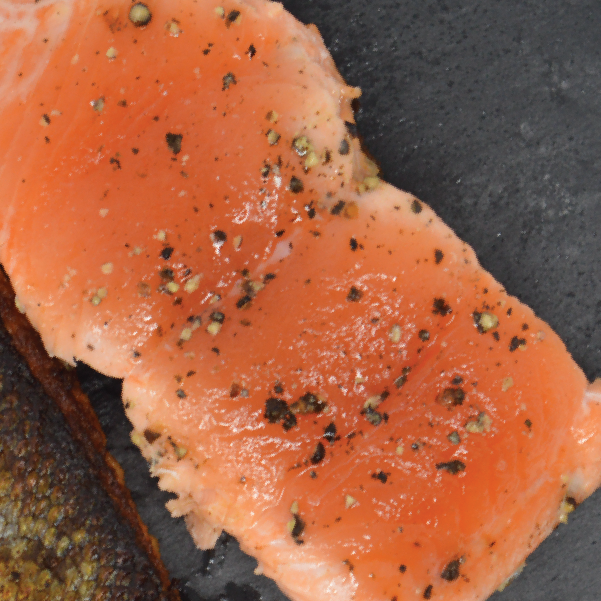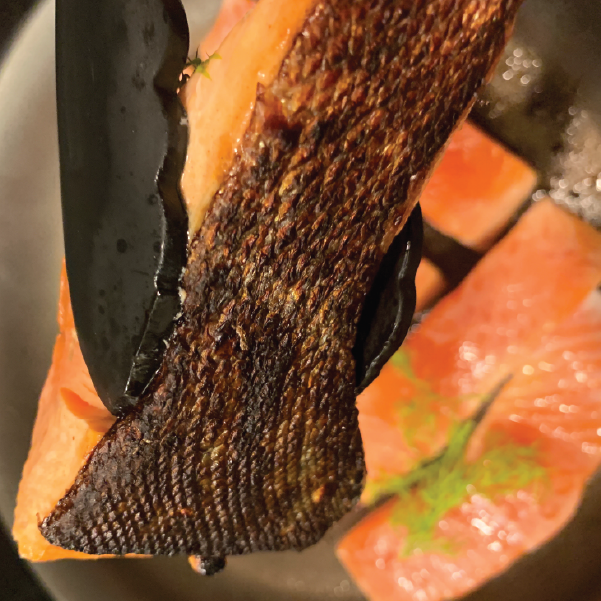 Flip fish and cook 1-2 minutes, brown the sides ~30 seconds, then serve.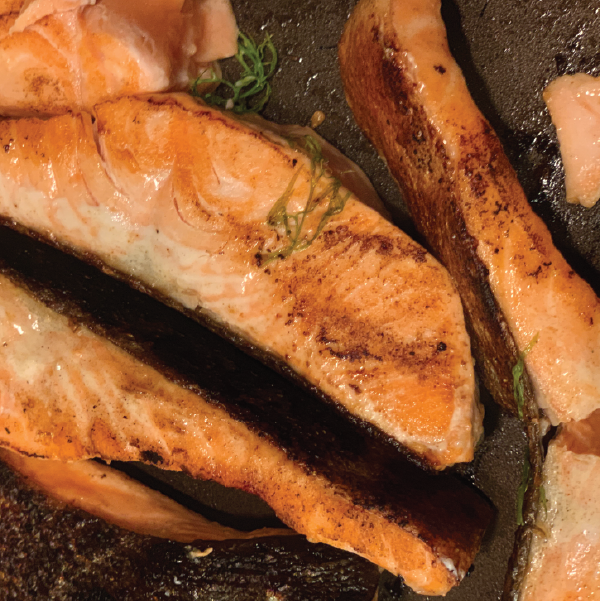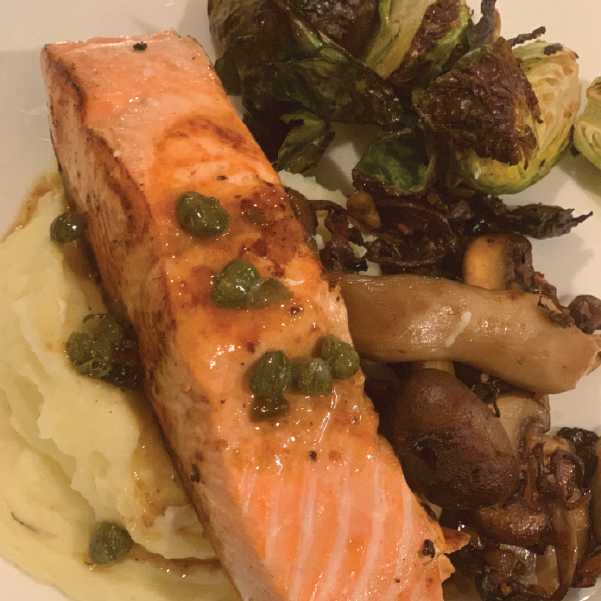 Dear SooN Cooks of the Internet,
Salmon and the Pacific Northwest are a natural pairing.  From Sockeye to Coho to King – there are countless varieties that are affordable and available year-round to the point where we eat it AT LEAST once a week. Pan-Seared is my go-to preparation for salmon because it is simple to prepare and looks elegant on the plate.  I have cooked it so many times that I probably could do it in my sleep.  These are my steps to perfection.
Happy SooN COOKING!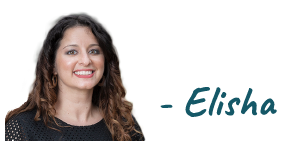 Looking for Something?
Search SooN LIVING and let us know if you don't find what you are looking for!
Become An Official SooN LIVING Fan*
Learn how to tame YOUR chaos with exclusive content, productivity hacks and the occasional funny story.
*A low-risk time commitment; unsubscribe anytime.
Feedback? Input? Questions?
We cannot wait to hear from you!